Under DDO Problem Solved If you have seen under your scholarship from mahadbt mahait gov in website Maharashtra Scholarship Portal Scrutiny will not be done by you and hence you will also have to withdraw from the benefits of the scholarship.

You will get to hear me every day Mahadbt under ddo status is pending what should I do, MahaDBT Scholarship under ddo for first installment?
Or if there is a second installment scrutiny under ddo pending task, then this complete guide can help you for its complete information.
If you want to understand the meaning of awaiting approval in marathi, then we have given a link below for this also, you can read it.
What is the meaning of MahaDBT Under DDO Status?
The biggest headache on the Mahadbt portal is the appearance of the status of ddo under. Under Maharashtra scholarship status will be shown as pending until the process given below will be done.
Now it's for scholarships What is the meaning of Mahadbt under ddo? Let us give you this information. It is very important for children to have accurate and correct information.
Any applicant becomes eligible for the benefits of the scholarship when his/her mahadbt scholarship form is approved at the institute level.
If such scholarship applications are accepted by the college or the students' scholarship form is sent to the department level, which approves the applications after the approval of the institute.
So after some time, the benefit of scholarship will be given directly to the applicants. aadhar link bank account Credit is done through Direct Benefit Transfer (DBT).
This amount is credited to the Aadhar linked bank account applicant in two installments, in which first installment and second installment in transferred involves doing.
Why is the DDO MahaDBT Scholarship Form Under?
let's find out Meaning of Under ddo status in Hindi language, We have also told above that when students submit their Maharashtra Scholarship Form Online.
Then print out the same application scholarship form and add all the necessary documents with it and submit it to your institution.
After this, until the college is able to do its own thing with the help of 2 Steps. mahadbt scholarship login Do not accept / Approved the form coming from the department level, till then that applicant sees Mahadbt under ddo status which he gets to know on checking Mahadbtmahait login.
Now to get the MahaDBT Form approved/forwarded/accepted in 2 steps the first step should be completed by the Clerk login which should be approved by the Clerk Scrutiny.
Even after the completion of the first phase, it is mandatory to complete the second phase which would have been for principal login. If both these logins are accepted on maha dbt application then you will never get Under ddo status on Mahadbtit.
If any one of these two steps is pending then it should be understood that your Scholarship Form is in Pending under Status Under DDO.
Now you know when and why under ddo appears. What did you do if this happened to you? If you haven't done anything yet, do it now.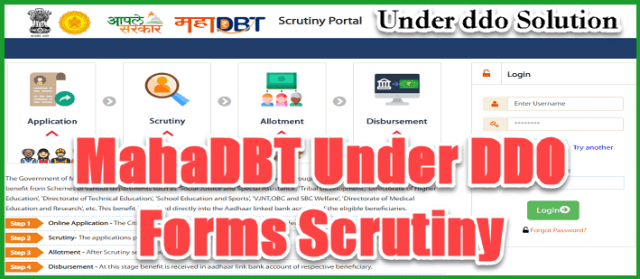 Mahadbt Scholarship First Installment Under DDO what to do?
Whether it is for the first installment or for the second installment, no matter what the status is under ddo, the most important first is to understand the whole process.
We can understand that applicants already have to go through many problems. In view of this, in time last date Before filling the scholarship form becomes difficult.
To overcome this difficulty, we have written many Mahadbt articles on this website which can help you completely.
First, stop thinking about the rest. What is my first installment under scrutiny, why is it appearing in the second installment under scrutiny, why I see under ddo mahadbt scholarship portal, stop thinking everything.
by promptly completing all the steps as per the given information and redeem voucher By doing this you can get your scholarship.
According to the Mahadbt 2nd Installment redeem 2022 date, when you have to redeem both the installments online, before that the scrutiny of the second installment after the first installment is also approved by the college.
If the college does this on time, then Mahadbat Scholarship 2nd Installment will get immediate Notification/SMS for redeem.
If you want to know the first or second installment process scrutiny means, then understand that your form is pending from mahadbt level institute.
If you see your Mahadbt status under Under scrutiny for second installment, then immediately contact your college and request that the second installment scrutiny acceptance be approved immediately.
What is Mahadbt Fund disbursement in process Meaning?
Now if all the process for Mahadbt Scholarship Application Form Online is completed. If all the student, institute, department level application approval tasks have been completed, then what will be the next step?
This is a very important question, now it is time to transfer the next step direct benefit. Even if the first voucher is redeemed by the applicant and the second scholarship voucher is also redeemed.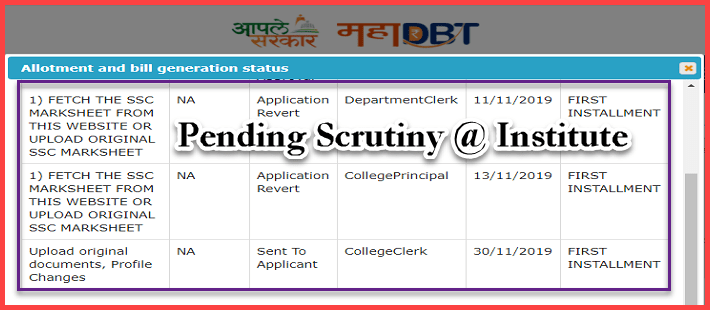 But even after many days have passed, what is the reason for not getting scholarship benefits in your bank account?
There can be many reasons for this like Duplicate Aadhar Profile, Aadhar number already exist, Bank account not seeded with NPCI and Aadhar number not seeded to NPCI etc.
If any of the above reasons Application status in scholarship amount Fund disbursement in process pending appears like this.
First of all login your Mahadbt and see the notification where is the problem. Accordingly, you will know how to proceed.
if MahadBT Fund disbursement in process Status If I have no problem then everything is fine your scholarship will be credited to your bank account.
The main problem of many student friends Voucher Redeem Message received for Maha dbt redeem button is not active but it asks what to do then you should try once as given below.
Mahadbt Helpline Toll Free Number,
To help ease the way, every department issues a helpline number, accordingly mahadbtmahait.gov.in helpline number is also present.
If you face any problem then contact them. It may not seem like numbers but you have to try because it does not seem quick due to many problems.
For your information please grievance Don't forget to do When this work is completed, then you have to take its screenshot also.
Simultaneously after the completion of this process mahadbt helpline mobile number/toll-free numbers Try contacting
Also, if you still have any problem with Mahadbt under ddo scrutiny, then write in the comment box below. Of course we will try to give you the correct answer which will satisfy you.
Mahadbt customer care no – 022-49150800

MahaDBT helpline email ID , Not available.
While contacting them, remember the Mahadbt complaint number so that your problem can be solved quickly. We are sure that now you must have understood what is Mahadbt scholarship under ddo means.
What does Mahadbt ddo mean in Hindi?
Maha dbt is a scholarship portal designed to accept online scholarship applications from the students of Maharashtra state only.
If the application on this portal is not approved by the institute/college, then it mahadbt scholarship rules According to the Under ddo in scholarship appears in pending status.
What is the meaning of Under ddo for first installment?
As we have explained above that the scholarship is sent to the bank accounts in two installments which are called first installment and second installment.
In this, if the first installment has not been approved from the college, then that Under ddo for first installment Pending is called.
What is the meaning of under ddo in mahadbt
Overall, Scrutiny is first pending for every online application, if it is not approved on time for scholarship, then it will go under scrutiny status which is called DDO pending.
Now no one will ask what is the under ddo full form for Mahadbt scholarship because this guide is the solution to your problem. Maharashtra scholarship under ddo status meaning If you have come to know then definitely share it with your friends.
Under DDO Problem Solved