Top 6 Robotics-Only News Blogs
These sites are wholly devoted to covering the news, trends and issues within the robotics community. Some of them only look at specific aspects of robotics, such as investment or business, but most of them cover a wide range of robotic news stories from industry to the latest research projects.
1. Robohub
As the name suggests, Robohub is a hub for all things robotics. Blogs are posted several times a day. It describes itself as "more than just an online robotics news site." It draws from a dedicated community of voices within the industry. For anyone interested in reading about robotics from knowledgeable people within the industry, this is definitely a site to check out.
2. Robotics.org
The Robotics Industries Association posts almost every day. They have a news stream, which releases the latest from the robotics industry, and an Industry Insights stream, where they take a considered look at some of the issues behind robotics.
3. RoboGlobal News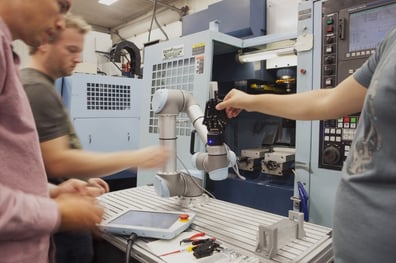 For some quick roundups of the latest headlines in robotics and occasional posts, RoboGlobal covers robotics from an investment perspective. Primarily, the site tracks trends in robotics stocks, while their blog posts look at overall trends in robotics.
4. Robotics Business Review
The Robotics Business Review claims to be "The Largest, Most Comprehensive Online Robotics News and Information Resource". It regularly posts about all aspects of the business of robotics. However, most of its posts are only short abstracts and you must pay a yearly membership fee to access the complete article.
5. The Robot Report
The Robot Report is written by roboticist, Frank Tobe, cofounder of Robo-Stox, a tracking index for the robotics industry, now RoboGlobal (see above). Through the blog he aims to follow the business of robotics and regularly reports on developments from all areas of the robotics industry.
6. Robotics Industry News, Applications and Trends @ Robotiq
Here at Robotiq, we post news stories every week about robotics. The majority of our coverage is about collaborative robots and the technical issues surrounding robotic grasping, force sensing and robot vision because our main products are grippers, force sensors and a camera. But we also post about robotic fundamentals, such as what to study for a career in robotics, force control basics and how to integrate your first robot.
Four Science and Technology Sites with Great Robotics Coverage
Although these sites are not entirely dedicated to robotics, these four sites are all great places to find news about robotics. Some of them are big names in science and technology news, and with good reason. They post high quality articles very frequently.
7. Phys.org – Robotics
Phys.org is a dedicated online news service covering stories from science, technology and research. Its technology section curates and publishes stories which frequently deal with robotics. The handy layout on the website allows you to easily and quickly skim through the headlines to pick out stories you think you'll find interesting.
8. IEEE Spectrum – Automaton Blog
The IEEE Spectrum is the magazine of the Institute of Electrical and Electronics Engineers. The online Automaton blog also publishes frequent news stories relating to robotics and automation.
9. MIT Technology Review – Robotics
The MIT Technology Review has been publishing since 1899, backed by the world-leading Massachusetts Institute of Technology. It posts stories about robotics often and currently also has regular columns relating to robotics from AI editor Will Knight.
10. Popular Science – Robotics
PopSci.com is the online outlet for the print magazine Popular Science. It regularly publishes news stories relating to robotics.
Two Blogs That Explore Key Robotic Issues
It's great to be able to keep on top of the newest developments in robotics. However, just reading about the next piece of "flashy tech" can sometimes leave you wishing for articles with more depth.
For stories that look deeper into the issues surrounding robotics, these are some great blogs to add to your reading list.
11. RobotEnomics [as of 2018 sadly no longer active but the historical posts are still worth a read]
Colin Lewis is an economist specializing in the social and economic impact of technology. His RobotEnomics blog takes a considered look at the issues surrounding robotics and makes a nice break from the usual, tech-heavy news stories. As he says himself: "In a large respect, this blog is not about describing the world… it's about exploring ideas."
12. Singularity Hub – Robots
The Singularity Hub is devoted to "chronicling technological processes by highlighting the breakthroughs, players and issues shaping the future". It has one whole section completely dedicated to robotics, which publishes frequent posts that look deeper into the issues surrounding specific news stories within the field.
Also, why not check out what we've got to offer right here on Robotiq's blog? You know, we don't only publish posts about robotic news, our customers and products. We also often publish articles that explore the deeper issues behind the latest robotic developments. For example, in the past we've discussed whether robots are really as dangerous as people think they are from a human risk perspective and a statistical one, how robotics might affect cellphone prices, whether robots have rights and how we can debunk the public perceptions of robots.